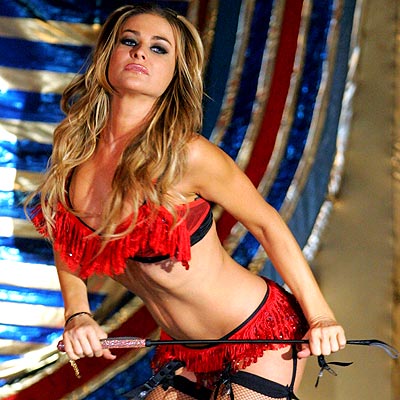 Tara Leigh Patrick (born April 20, 1972), professionally known as Carmen Electra, is an American glamour model, actress, television personality, singer, dancer and sex symbol. She gained fame for her appearances in Playboy magazine, on the MTV game show Singled Out, on the TV series Baywatch, and dancing with the Pussycat Dolls, and has since had roles in the parody films Scary Movie, Date Movie, Epic Movie, Meet the Spartans, and Disaster Movie.
Electra married basketball star Dennis Rodman in December 1998. Their wedding took place at Little Chapel of the Flowers in Las Vegas, Nevada. It's rumored that Electra was romantically linked with Prince.
On November 22, 2003, Electra married Dave Navarro, lead guitarist for the rock band Jane's Addiction. The couple documented their courtship and marriage in an MTV reality television show called 'Til Death Do Us Part: Carmen & Dave. On July 17, 2006, she and Navarro announced their separation, and Electra filed for divorce on August 10. It was finalized on February 20, 2007. In April 2008, Electra's representative confirmed that she was engaged to Rob Patterson, a member of the nu metal band Otep.
Electra on February 28, 2006.
Born Tara Leigh Patrick
April 20, 1972 (1972-04-20) (age 37)
Sharonville, Ohio, U.S.
Occupation Actress, model, dancer, television personality, singer, entertainer
Years active 1990–present
Spouse(s) Dennis Rodman (1998–1999)
Dave Navarro (2003–2007)